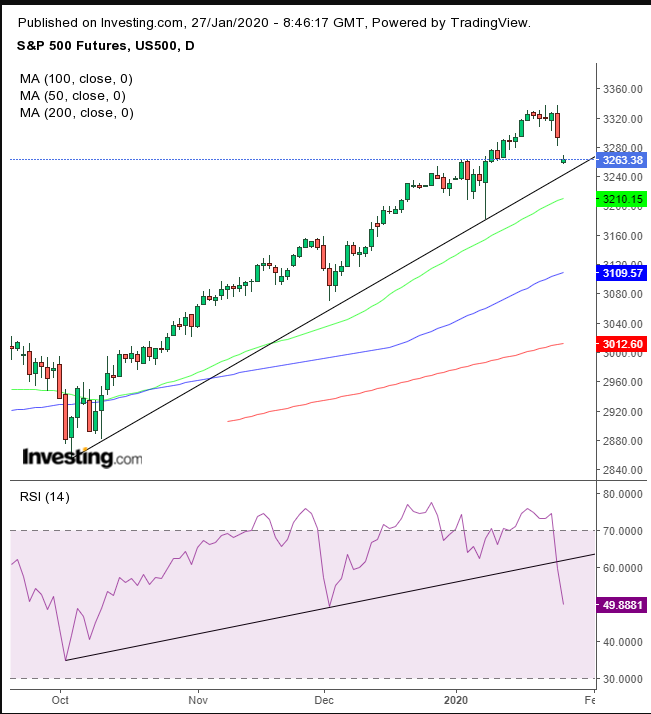 Fears rippled through Asia as the spread of the virus escalated, with 80 deaths so far
All four major U.S. futures contracts are signaling an exacerbated selloff for underlying benchmarks
Oil inches toward $50, whose break would auger a deeper plunge
Key Events
Growing concerns regarding whether China is doing enough of the terminal coronavirus, have caused the global equity selloff to accelerate. Treasurys, and Japan's all moved higher.
, which has already been pressured by the geopolitical risk to global economies, resumed its plunge, and China's extended a selloff.
Panic has been barreling through markets as the death toll from the pandemic hit 80, altering the start of a trading week whose focus would otherwise have been on a slew of potentially positive earnings releases and market-friendly, post-trade-deal events.
Global Financial Affairs
Futures contracts on all four major U.S. indices—the , , and —gapped lower, while remaining above uptrend lines.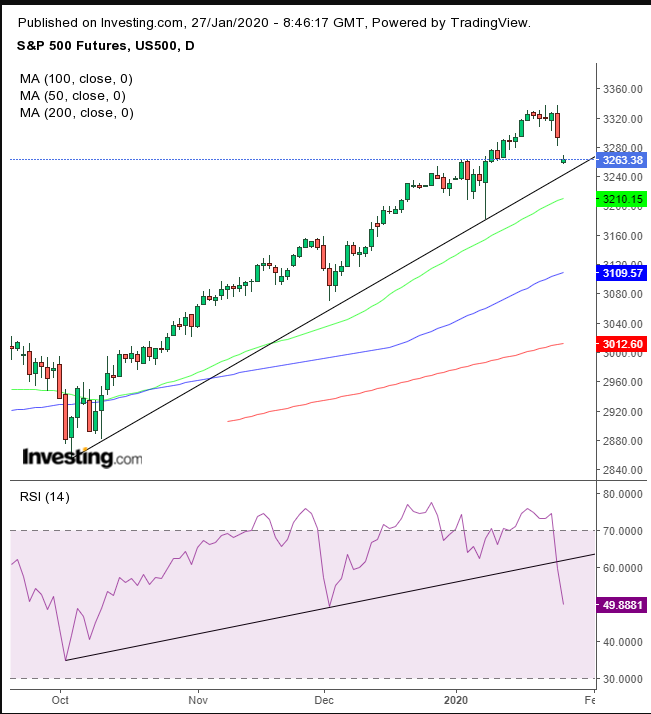 However, a break below the RSI signals that prices may follow suit, dipping below uptrend lines. Though the chart above illustrates the current state of S&P futures, the pattern repeats for the remaining three contracts as well.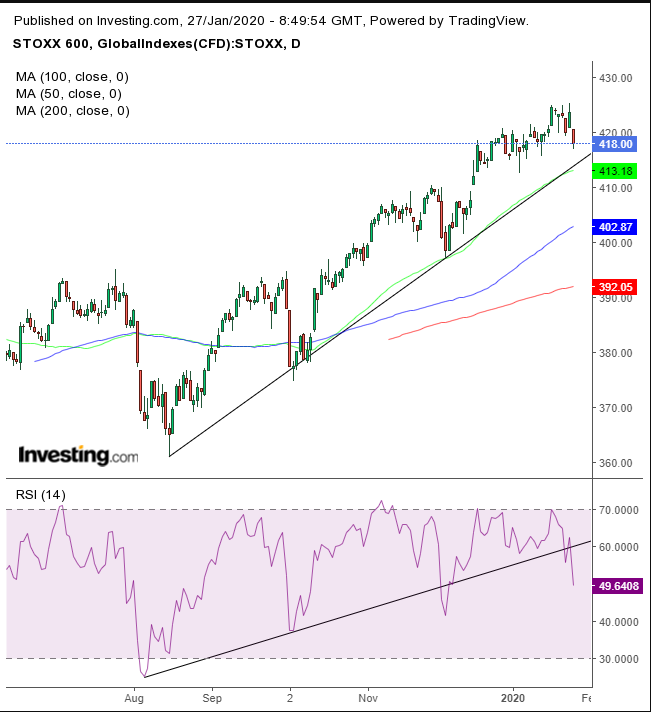 All 19 sectors of the fell, gapping down slightly. Like futures contracts on American counterparts, the RSI fell below its uptrend line.
Most Asian exchanges were closed on Monday for the New Year holiday, and were therefore spared the bloodletting. Contracts on plunged more than 5%.
Japan's , one of the few Asian markets open today, also gapped down, extending a selloff. The index lost 2% of its value.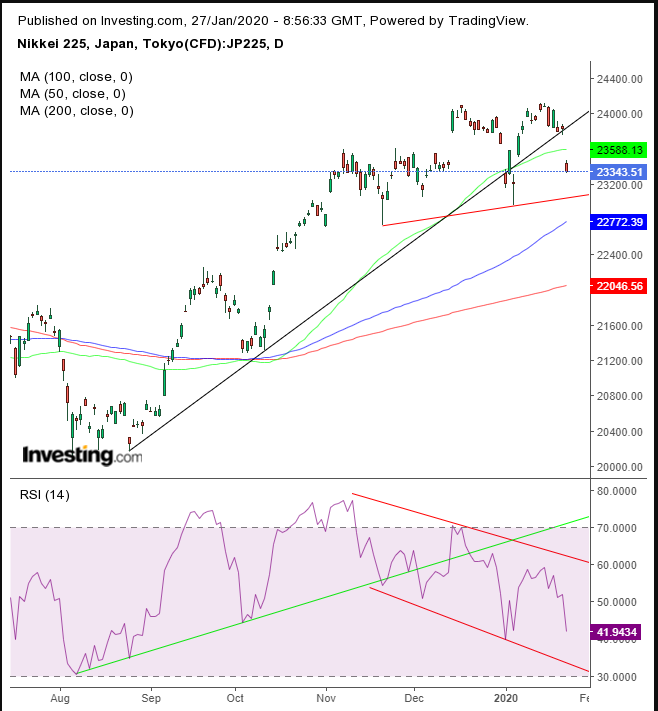 Technically, the fell below its uptrend line since the August bottom, potentially topping out (red line). It also displayed falling momentum as shown by the RSI.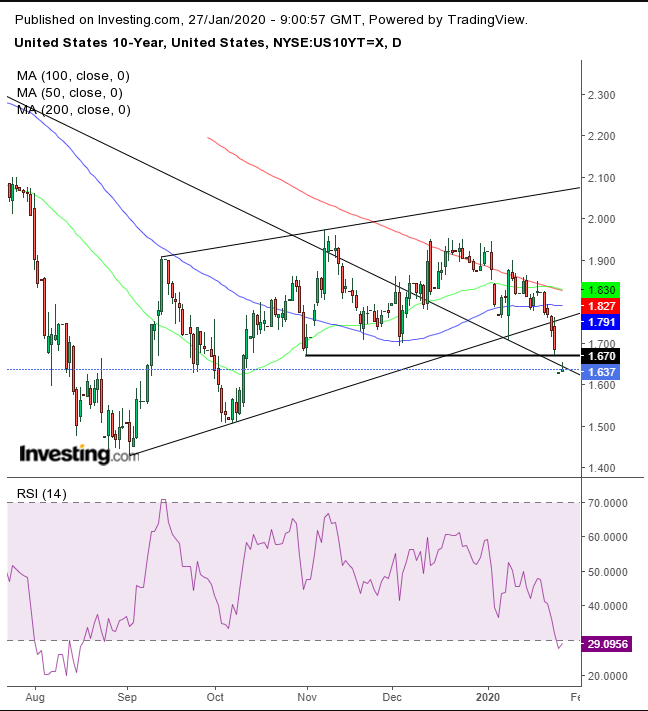 UST 10-Y Daily
A rush to buy Treasurys forced yields—including for the benchmark note—to gap down, below a support since Nov. 1, after already failing below the uptrend line since the Sept. 3 bottom.
Ironically, these negative technical breakouts follow a golden cross, which is likely turning into a bearish signal, if the 50 DMA returns below the 200 DMA. Meanwhile, the RSI bounced with yields, after the measure of momentum reached 27, its lowest level since mid-August, before yields came back from below 1.45, nearing the 2.00 level in November.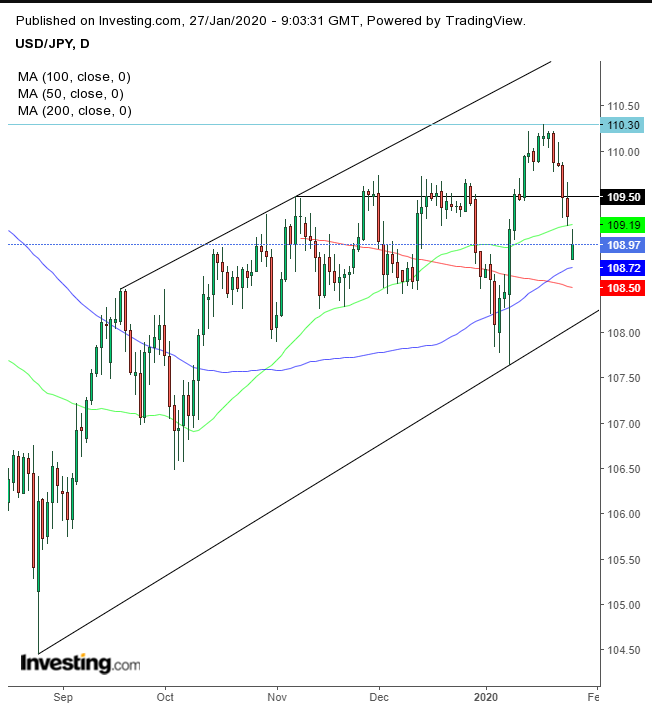 The rose slightly, though it initially gapped down versus the yen. However, it closed the gap and is now fluctuating at a loss, after it neared the 100 DMA, subsequent to plunging below the 50 DMA.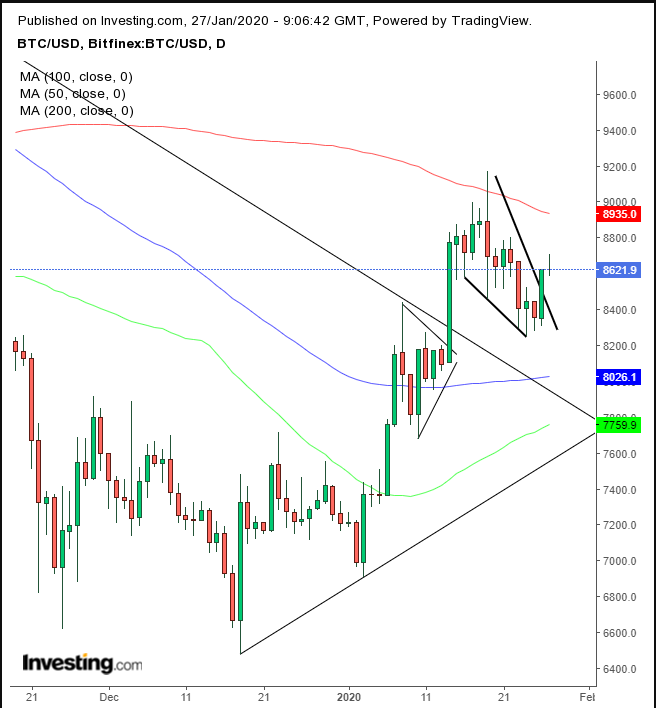 may have completed a falling flag, bullish after the 7.5% jump—itself, an upside breakout to a bullish pennant—as it broke free of its downtrend line since nearing the $14,000 highs in June, and after finding resistance by the 200 DMA.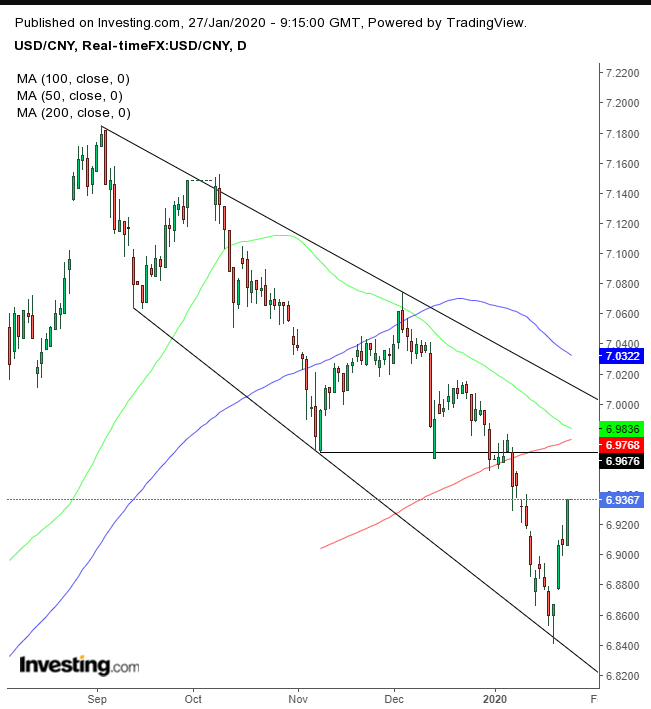 The yuan plunged, driven by nothing more than a correction. The USD/CNY pair has pulled back, barely halfway toward its falling channel top, well below its November and December lows. Meanwhile, the 50 DMA plunged toward a slightly rising 200 DMA for a potential death cross.
As global health concerns escalate, fears that demand for oil will plummet, pressuring economic activity, sent WTI plunging. With plenty of sellers, albeit few takers, a falling gap on the technical charts has emerged.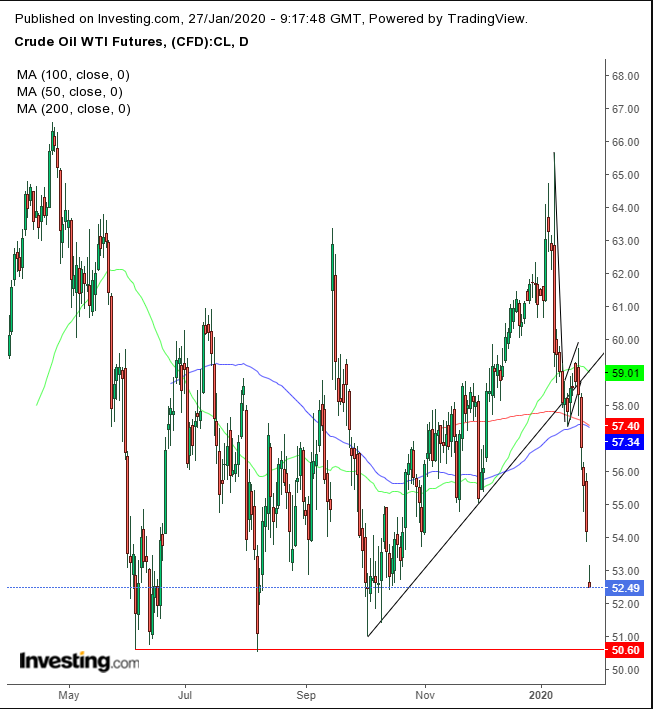 The commodity attempted a comeback last week, but is now extending its descent, as the price fluctuates around $52.50 levels, nearing the . Some analysts there's no end in sight right now to oil's collapse.
Corporate earnings release this week will include reports from such big tech mega caps as Facebook (NASDAQ:), (NASDAQ:) and Samsung (OTC:) all release results.
Separately, although, no policy changes are expected, rate decisions from and , along with Governor Mark Carney's final session, may include surprises.
However, all of that may take a deep back seat to the coronavirus virus. Moreover, it wouldn't surprise us if global central banks kept any surprises under wraps, at least until health officials contain the spread of the vrus and investors have a chance to catch their collective breath.
Up Ahead
Tech giants including SAP (NYSE:) and South Korean chip maker SK Hynix (KS:) release earnings this week, as do

Boeing Co

(NYSE:), International Paper (NYSE:),

General Electric

(NYSE:), United Technologies (NYSE:),

Lockheed Martin

(NYSE:),

Caterpillar

Inc (NYSE:), and energy supermajors

Exxon Mobil

(NYSE:), Shell (NYSE:) and

Chevron

(NYSE:).
The Senate impeachment trial of President Donald Trump continues in Washington DC on Monday.
Fed policy makers are expected to open 2020 the same way they closed 2019—by on Wednesday.
The BOE meeting is highly anticipated Thursday after a series of dovish comments raised speculation policy makers could lower interest rates.
The U.S. reports Q4 on Thursday.
The U.K. is scheduled to leave the European Union on Friday.
Market Moves
Stocks
The Index dipped 1.5%.
Futures on the S&P 500 Index decreased 1%.
Japan's sank 1.6%.
Currencies
The Dollar Index gained 0.1%.
The dipped 0.1%.
The was little changed at $1.1029.
The Japanese yen strengthened 0.2% to 109.04 per dollar.
The weakened 0.7% to 6.9768 per dollar.
Bonds
The yield on 10-year Treasuries declined four basis points to 1.65%.
Germany's yield decreased one basis point to -0.35%.
Britain's yield dipped two basis points to 0.539%.
Italy's yield decreased 17 basis points to 1.059%.
Commodities
The dipped 0.6% to 76.83.
Gold strengthened 0.5% to $1,578.73 an ounce.
sank 6.6% to $85 per metric ton.
West Texas Intermediate crude declined 2.1% to $53.03 a barrel.