NASDAQ extends selloff
Bitcoin slumps below $40,000
Dollar Index nears annual low
Key Events
Futures on the , , and as well as global stocks declined on Wednesday as whipsawing inflation worries resurfaced, exacerbated by concerns of a resurgence in the coronavirus. Traders are eagerly awaiting the release of the  from the FOMC's April meeting today at 2pm EST, which may provide clues to fiscal policy makers' views on the recovery and how they define "transitory" when it comes to inflation
fell for the second day. 
Global Financial Affairs
While all four major US contracts were at least half-a-percent in the red as of the time of writing, futures on the tech-heavy NASDAQ 100 were more than 1% in negative territory—showing that Tuesday's tech selloff on Wall Street is likely not over yet.
In Europe, it was commodity and leisure related shares that pressured Index pushing it to its sharpest decline in a week.
Stocks in Asia tracked yesterday's tech-led US session selloff.
Asian shares were red across the board. Australia's dropped 1.8%, its biggest single-day decline in 12 weeks.
Tuesday's US tech selloff accelerated during the final 15 minutes of the session, as investors grew concerned by the rising price of commodities, suggesting a spike in inflation for the first time since the Great Recession. This may prove to be a hinderance to what may otherwise be a powerful economic recovery. 
The fell 0.9%, with  (-2.3%) by far the biggest sector loser, as the supply outlook increased. Big tech—including Microsoft (NASDAQ:), Amazon (NASDAQ:) and Alphabet (NASDAQ:)—wiped out initial gains, with the first two falling into losses.
AT&T (NYSE:) underperformed after the company it will spin off its media operations.
Yields on the Treasury note rose this morning.
Ultimately yields have been moving sideways since March, as investors await a resolution on inflation and interest rates.
The has found its footing after a three-day decline, which took it below its uptrend line since Jan. 6.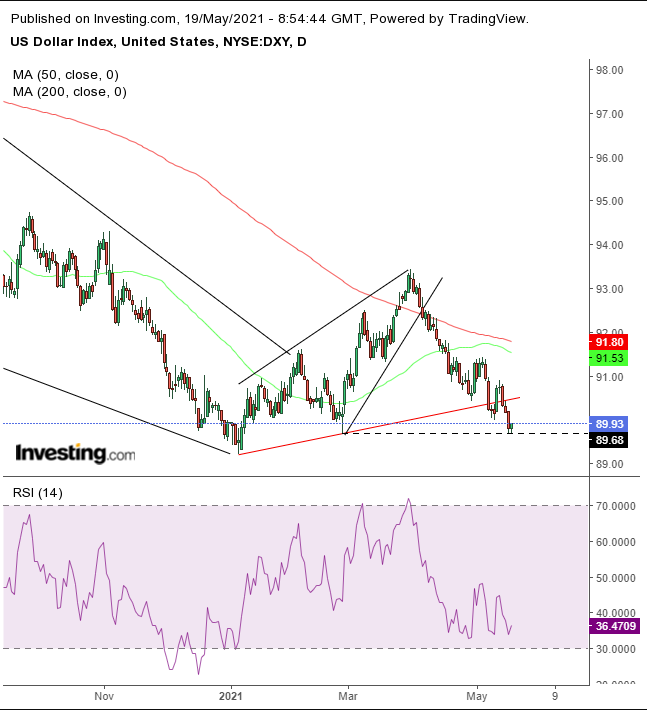 Dollar Index Daily
The RSI has been consolidating, providing a positive divergence to the price decline. Is the Feb. 25 low providing support, after the 50 DMA found resistance by the 200 DMA?
After the small, bearish wedge's implied target was reached, we expect a rebound to resume the giant bullish trend since the March 2020 top. However, if the Jan. 6 floor breaks, we anticipate a protracted decline.
Dollar support provided resistance for .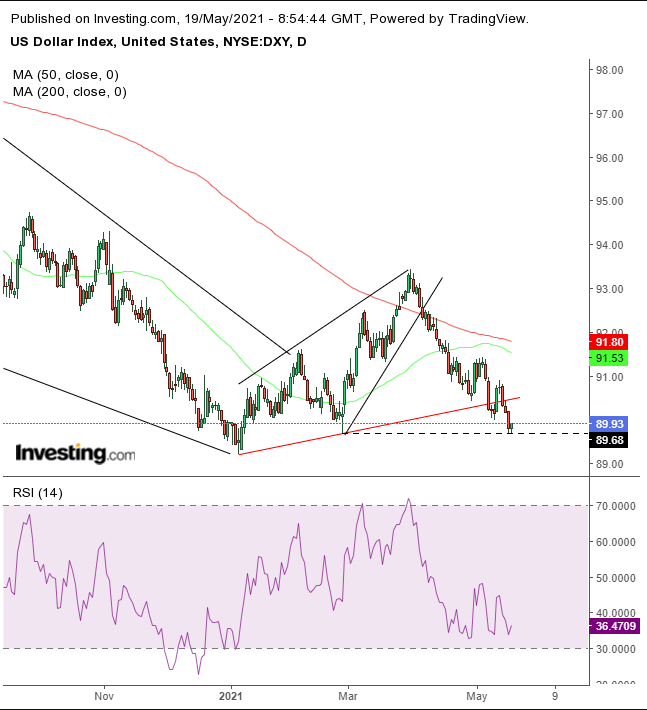 Dollar Index Daily
However, we consider the dip temporary, as the RSI reaches overbought conditions and a bullish flag develops, followed by an upside breakout of a falling channel, which often tends to be followed by a return-move.
Chinese regulators a statement yesterday saying that financial and payment institutions should not use cryptocurrencies as payment or offer services and products related to them.This follows Tesla's (NASDAQ:) CEO and founder, Elon Musk backtracking from accepting payment for his company's EV cars in Bitcoin.
The announcement dented Bitcoin, which was already slipping. The token proceeded to fall below $40,000 for the first time since February.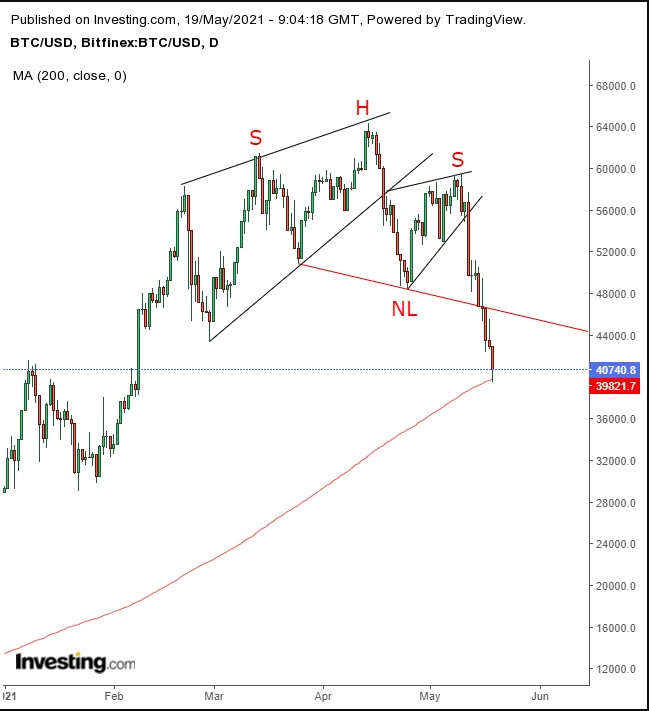 Bitcoin Daily
BTC reached our earlier target, and we that even if it rebounds, it may still reach $30,000 soon.
sold off on rising US and the increasing likelihood of additional supply from Iran.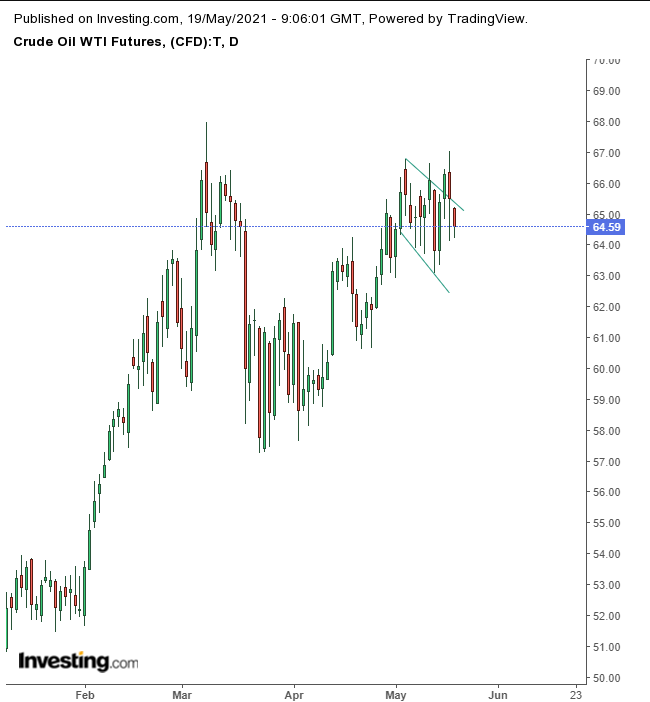 Oil Daily
The price fell back into a falling flag, suggesting the initial breakout was false. A decisive upside breakout will signal a resumption of the uptrend. A fall below the flag would reverse the course downward.
Up Ahead
On Thursday, US are released. 
IMF Managing Director Kristalina Georgieva and ECB President Christine Lagarde speak at the Vienna Economic Dialogue on Thursday.
UK figures will be announced on Friday. 
On Friday US figures will be published.
Market Moves
Stocks
The STOXX 600 fell 1%
Futures on the S&P 500 fell 0.5%
Futures on the NASDAQ 100 fell 0.8%
Futures on the Dow Jones Industrial Average fell 0.4%
The Index fell 0.5%
The was little changed
Currencies
The Dollar Index was little changed
The rose 0.1% to $1.2238
The was little changed at 109.00 per dollar
The fell 0.1% to 6.4287 per dollar
The was little changed at $1.4193
Bonds
The yield on 10-year Treasuries advanced two basis points to 1.65%
Germany's yield advanced two basis points to -0.08%
Britain's yield advanced two basis points to 0.89%
Commodities
fell 1.1% to $68 a barrel
was little changed
(Visited 8 times, 1 visits today)