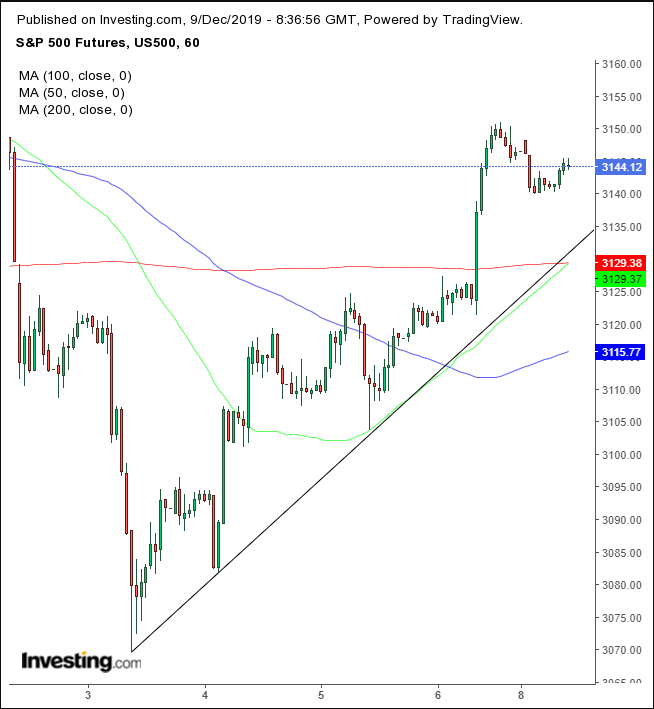 U.S. futures edge lower as caution prevails ahead of week's events

Losses in trade-sensitive tech shares weigh on Europe's STOXX 600

Treasury yields drop on risk off

GBP extends gains ahead of Thursday's elections
Key Events
Futures on the , and edged lower alongside European shares this morning as investors opted for caution ahead of a week full of events that could shake the market—with key global monetary policy decisions and another deadline for U.S. tariffs on Chinese goods looming nearer.
We expect the market this week , with every bit of news, rumor and nuance about the outlook for a partial U.S.-China deal potentially rocking markets—up or down.
White House economic adviser Larry Kudlow said on Friday the two sides are haggling over the amount of U.S. farm products Beijing is willing to purchase. Meanwhile, fresh trade data showed China's exports to the U.S. tumbled 23% in November. The question is whether China will take its voters' pocketbooks into consideration when it sets out its trade requests, or maintain a hard line and and let U.S. President Donald Trump sweat ahead of his reelection bid and amid mounting impeachment calls.
U.S. contracts attempted to build on Friday's rally—which was favored by an upbeat , something that increases the odds of the Fed on Wednesday—before bucking and joining the global trend lower.
Investors showed signs of losing their nerves ahead of Sunday's tariff deadlines, which would hit $156bn of consumer goods. Higher levies on these would be immediately felt by consumers, central for economic growth and a key component of the electorate—which makes this round of tariffs a double-edged sword for the U.S. president. Technically, even after the pullback, the week's trend is still clearly upward.
The , likewise, attempted to rise before it caved, as trade-sensitive technology firms dropped, offsetting gains in—ironically—retailers.
Global Financial Affairs
Earlier in Asia, Japan's and South Korea's posted a modest 0.33% increase, while advances mostly fizzled in Hong Kong's (-0.01%) and China's (+0.08%).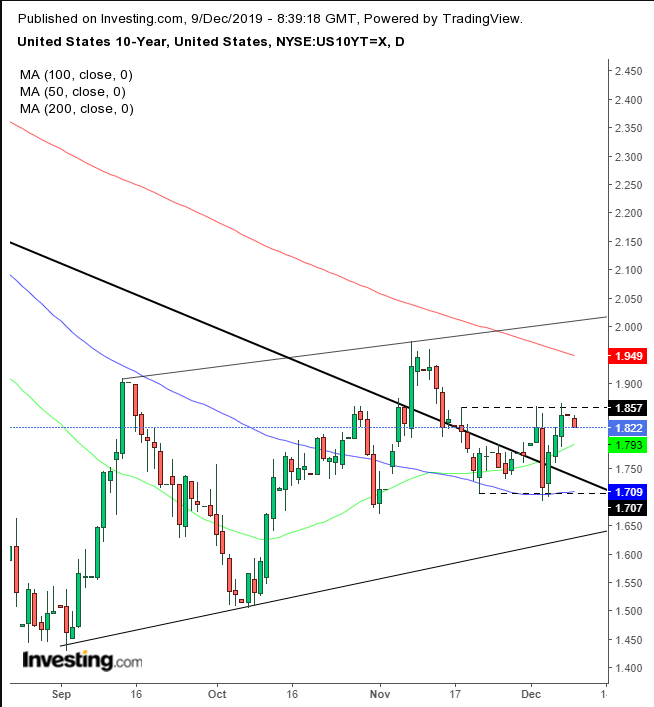 Elsewhere, yields on Treasurys fell, as nervous investors rotated into safe-haven assets. Technically, the range around the downtrend line since November 2018 resumed.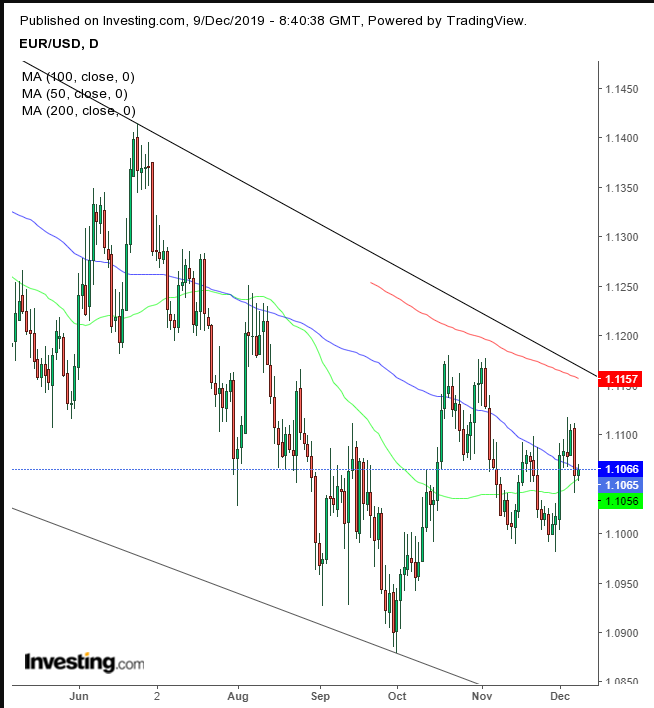 The fell below the 200 DMA, as the bounced above the 100 DMA. In the longer term, however, the EUR/USD is markedly down, as can be seen in the above chart.
The strengthened as polls showed the U.K. Conservative Party on course to win a majority in Thursday's election, which would likely mean Britain leaves the European Union by Jan. 31. Cable reached the highest price since May 3, struggling against Thursday's highs.
Up Ahead
China reports on on Tuesday.
The Federal Reserve decides on interest rates on Wednesday, followed by a from Chairman Jerome Powell.
The next European Central Bank is on Thursday.
Also on Thursday, the U.K. holds a general election.
Market Moves
Stocks
The advanced 0.4%.
The gained 0.3%.
Currencies
The Dollar Index was little changed.
The euro advanced 0.1% to $1.1067.
The British pound rose 0.2% to $1.316.
The declined 0.1% to 7.039 per dollar.
The was little changed at 108.53 per dollar.
Bonds
The yield on 10-year Treasurys declined one basis point to 1.82%.
The yield on Treasurys slid one basis point to 1.61%.
Germany's yield fell two basis points to -0.30%.
Britain's yield dropped two basis points to 0.749%.
Japan's yield climbed less than one basis point to -0.002%.
Commodities
fell 0.6% to $58.87 a barrel.
gained 5.8% to $92.30 per metric ton.
climbed 0.2% to $1,462.78 an ounce.