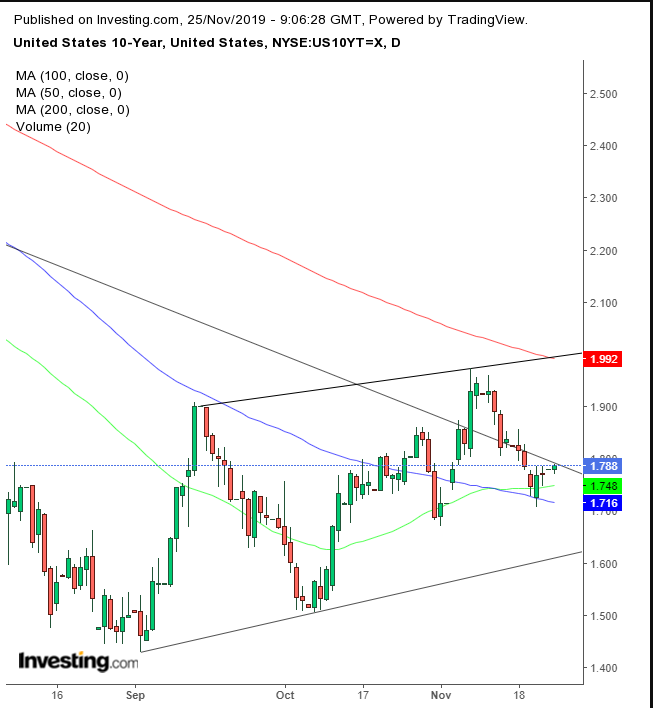 U.S. futures, European shares climb on China's optimistic trade reports, intellectual property measures

Treasurys, gold, yen drop but safe-haven demand remains stable overall

BTC recovers mildly after sliding below $7,000 for the first time in six months
Key Events
Global equities and futures on the , and advanced, at the expense of safe havens such as Treasurys, and the , after a Chinese state-backed newspaper said trade negotiators were "very close" to an initial agreement. The upbeat report added to intellectual property measures announced by China on Sunday, which can be seen as a key concession within trade talks with the U.S.
In the back-and-forth drama of trade diplomacy, China said it will increase fines over violations on intellectual property—perhaps the main sticking point of the trade spat—paving the way for a smoother path to a meaningful trade deal. Naturally, whether it will follow up on its rhetoric is yet to be seen.
The timing of perhaps the biggest Chinese concession to date may be linked to the country's plans for a record sale of dollar-denominated bonds, as it maintains its strategy to build an offshore market for domestic companies and local authorities. In other words, it could be argued that, once it raises its capital, China is likely to go back to its previous stance. With markets mostly understood to have priced in a deal, risk is to the downside.
That may help explain why, while global equities are set for a third straight monthly gain, bonds and safe-haven assets remain in demand, highlighting that the overall shaky progress of trade talks, alongside contradictory statements by U.S. President Donald Trump and his aides, are keeping investors cautious.
Futures trading this morning nonetheless suggested that stocks will once again attempt to reach fresh records in the upcoming U.S. session.
In Europe, the climbed with shares of trade-sensitive automakers and mining firms.
In the earlier Asian session, Hong Kong's (+1.50%) surged after local council elections marked a landslide victory for pro-democracy candidates.
Global Financial Affairs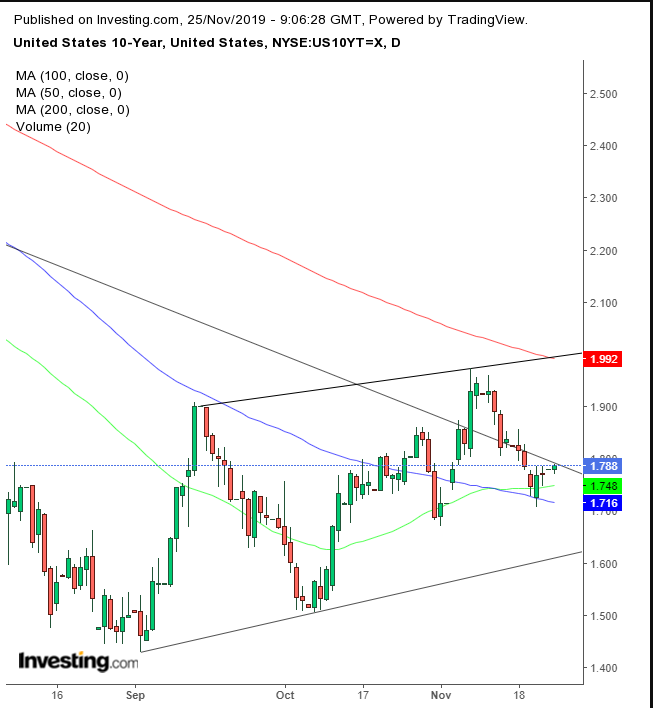 The yield on Treasurys rose within its short-term rising channel. However, the contradictory MACD and RSI reflect the conflict between the resign channel and the long-term downtrend line since November 2018, with which it is currently struggling.
The climbed above neutral levels after retreating alongside government bonds.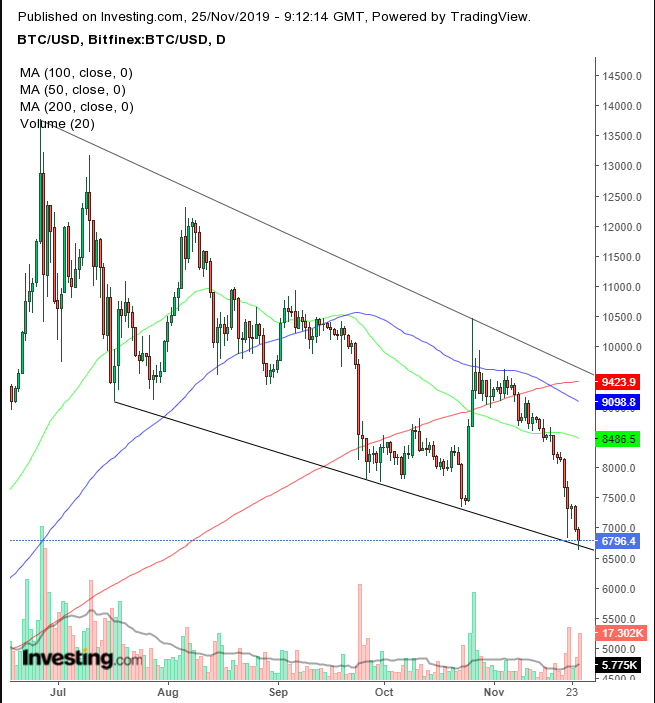 headed for its seventh negative session out of 10—sliding below $7,000 for first time in six months. The cryptocurrency is testing its falling channel's bottom.
Up Ahead
Federal Reserve Chairman Jerome Powell speaks on Monday in Providence, Rhode Island.

Alibaba

(NYSE:) starts trading in Hong Kong on Tuesday.

U.S. data is due on Wednesday, along with , jobless claims and .

The U.S. celebrates Thanksgiving on Thursday, when equity and bond markets will be shut.

The Bank of Korea on Friday.
Market Moves
Stocks
Italy's gained 1%.

Hong Kong's Hang Seng advanced 1.5%.
Currencies
climbed 0.2% to 0.8568 per euro.

The Japanese yen slid 0.2% to 108.89 per dollar.
Bonds
The yield on 10-year Treasurys advanced two basis points to 1.79%.

Germany's yield climbed one basis point to -0.35%.

Italy's yield increased one basis point to 1.194%.

Japan's yield fell less than one basis point to -0.077%.
Commodities
gained 0.5% to $58.06 a barrel.

jumped 3.2% to $89.20 per metric ton.

Gold slipped 0.4% to $1,456.58 an ounce.