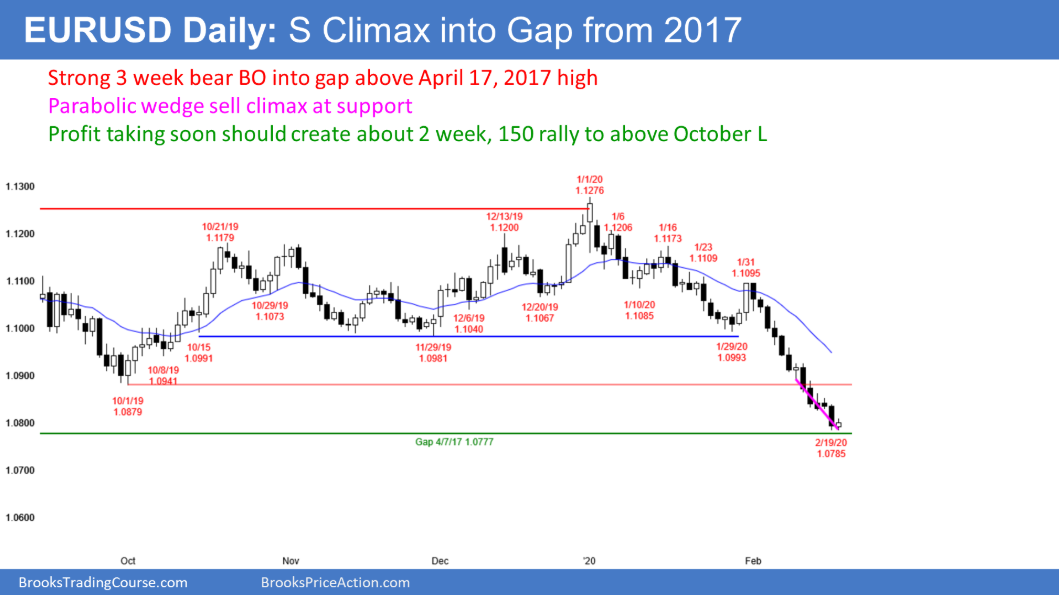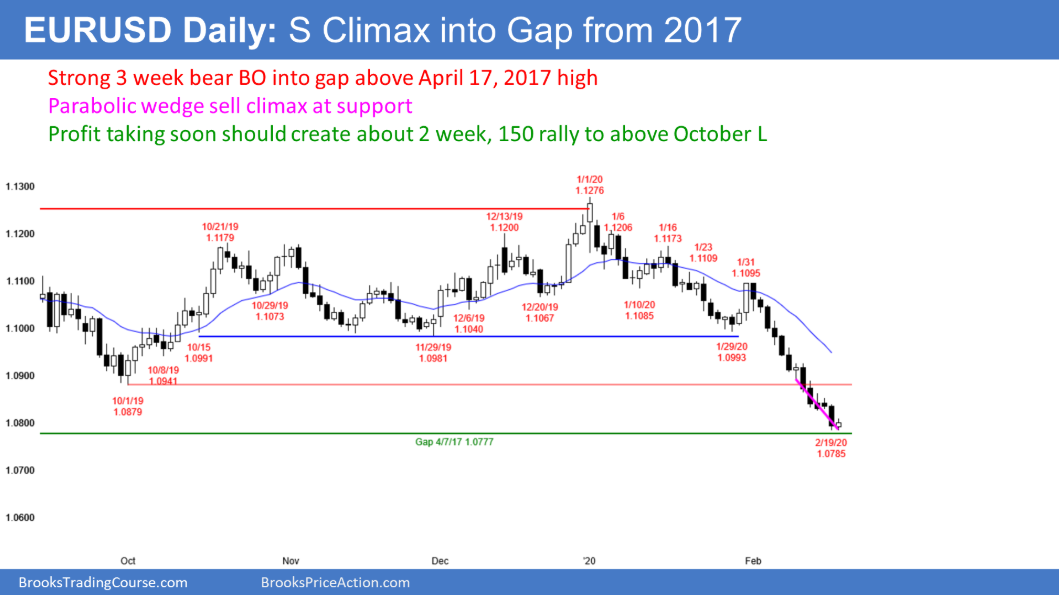 The daily chart of the market has sold off strongly for 3 weeks. It is now in the gap above the April 7, 2017 high, which is an important support level. Was this selloff simply a test of that gap, or will it break below the 2017 low and continue down to par (1.00)?
The stop for the bears is now far above. To reduce risk, many will begin to take profits. A short covering rally after an extreme sell climax typically has 2 or more legs and lasts about 10 bars or more.
Today is the 3rd attempt in 7 days to stop the selling. There is therefore a parabolic wedge bottom, which often comes at the end of a sell climax.
If the bulls can get today to close near its high, today will be a reasonable buy signal bar for tomorrow. A break above a strong buy signal bar will make many bears take some profits.
In addition, bull scalpers will buy for a test up to above the most recent resistance. That is the October low. The rally also usually tests the 20-day EMA.
Overnight EUR/USD Trading
The 5-minute chart of the EUR/USD Forex market fell 1 pip below yesterday's low and reversed up. So far, the reversal has only been 15 pips.
Everyone knows that the odds favor profit taking soon. The bears want the trend to continue much lower before it begins.
However, the daily chart is at major support. Also, there is now a possible parabolic wedge sell climax on the daily chart. That often leads to a minor reversal up.
Consequently, the next few days are important. If the bears begin to buy back their shorts and the bulls start to buy for a bounce, today could have a bull body. That would be a possible low for the next couple weeks.
Therefore, the bulls will be more willing to buy today than they have been for 3 weeks. At a minimum, they want today to have a bull body on the daily chart. They would have a better chance of a bigger rally if today or tomorrow becomes a big bull day that closes on its high.
The bears today will sell rallies. Their minimum goal is to have today close below the open. They do not want a good looking buy signal bar on the daily chart. If there are successful, traders will expect at least slightly lower prices tomorrow and possibly for several days.
Since the bears are exhausted and are ready to buy back their shorts at any point, there is a reduced chance of a big bear day today. This is true even though the daily chart is in a strong bear trend.