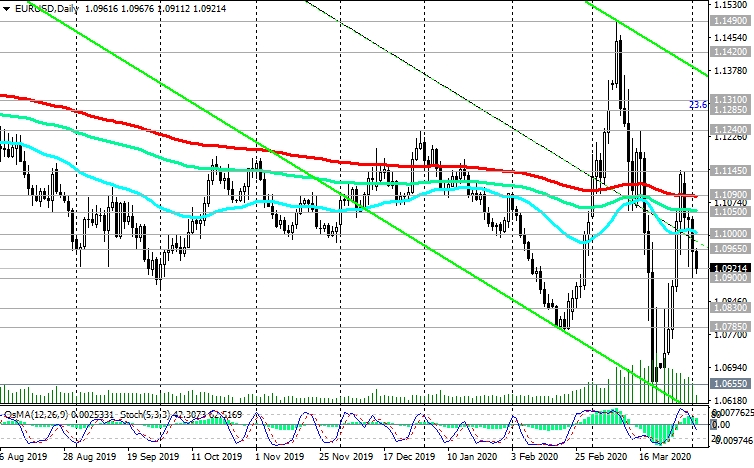 Over the past week, the has been growing, making an attempt last Friday to break through the important long-term resistance level of 1.1090 (ЕМА200 on the daily chart). However, a breakthrough did not work, and on Monday the decline in EUR / USD resumed.
Today, the EUR / USD pair is falling for the 4th day in a row, traded at the beginning of the European session near the level of 1.0925, below the resistance level of 1.1090.
In Europe, the situation around the negative impact of coronavirus on the economy is even worse than in the United States.
The current account surplus of the Eurozone balance of payments will provide some support to the euro. However, the growing political tensions and disagreements within the bloc may lower the EUR / USD to 1.0500 mark over the next 3 months, economists say. Will Eurozone leaders be able to resolve their differences over the economic response to the coronavirus pandemic? So, recently Germany and other countries of Northern Europe, members of the European Union, refused the proposal of Italy, France, Spain and six other countries of the Eurozone to issue joint bonds.
EUR / USD also remains below important short-term resistance levels of 1.1000 (ЕМА200 on the 4-hour chart), 1.0965 (ЕМА200 on the 1-hour chart), which speaks in favor of short positions.
Today, financial market participants will pay attention to the publication (at 12:30 GMT) of the US Department of Labor weekly report on the number of unemployment claims.
It is expected that the number of for unemployment benefits in the week of March 20 – 27 will be 3,500,000, which will be new, from October 1982, anti-record.
The position of the dollar may suffer in the foreign exchange market, since extremely negative data from the US labor market will indicate a slowdown in the US economy, which may soon face the problem of not just recession, but also depression. According to a report presented last week, the number of initial claims for unemployment benefits amounted to 3,283,000. Economists attribute this to the coronavirus, which hit the US economy.
In an alternative scenario, the growth of EUR / USD into the zone above the resistance levels of 1.0965, 1.1000 will speak about the resumption of upward dynamics.
Support Levels: 1.0900, 1.0830, 1.0785, 1.0655, 1.0600, 1.0580, 1.0530
Resistance Levels: 1.0965, 1.1000, 1.1050, 1.1090, 1.1145
Trading Recommendations
Sell ​​by market. Stop-Loss 1.1010. Take-Profit 1.0900, 1.0830, 1.0785, 1.0655, 1.0600, 1.0580, 1.0530
Buy Stop 1.1010. Stop-Loss 1.0960. Take-Profit 1.1050, 1.1090, 1.1145