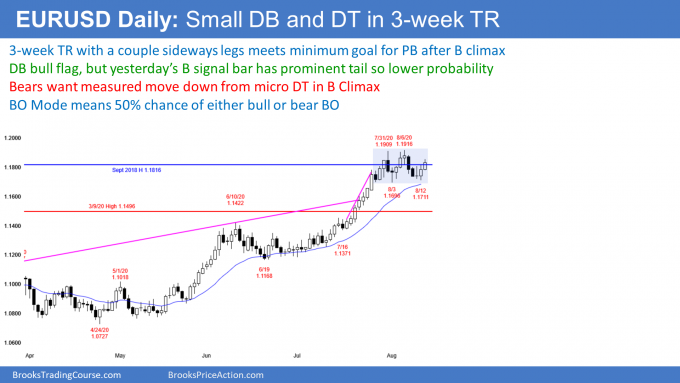 The forex market on the daily chart has been sideways at resistance after a buy climax. Traders are deciding whether the bull trend should resume from the double bottom bull flag, or if the pullback will continue down from the small double top.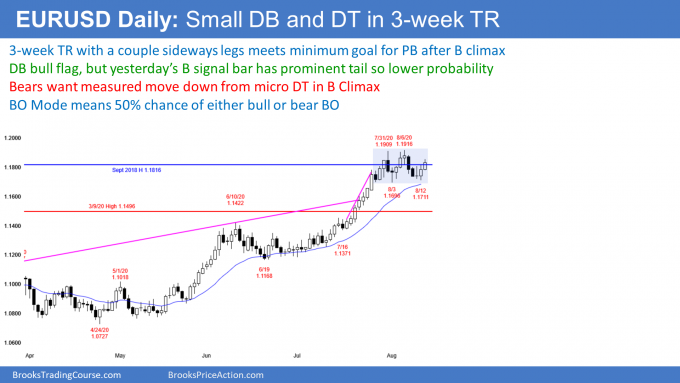 A trading range always has both a reasonable buy and sell setup. This is a breakout mode situation. Traders know that there is a 50% chance of a successful bull breakout and a 50% chance of a successful bear breakout. Furthermore, they know that there is a 50% chance that the 1st attempt will fail.
Finally, they believe that a measured move up or down will be followed by a reversal back to the trading range. Since the bull trend has been strong, a selloff down to the breakout point of the June 10 high will still be a pullback. Traders would expect a test back up.
Also, a trading range late in a bull trend is usually the Final Bull Flag. Therefore, a measured move up will probably come back down to the trading range.
Yesterday was a buy signal bar for a double bottom bull flag. But the prominent tail on top of the candlestick and the bar not closing above Tuesday's high make it a low probability buy signal bar.
Overnight EUR/USD Forex Trading
The 5-minute chart of the EUR/USD Forex market broke above yesterday's high, which triggered a High 1 bull flag buy signal bar on the daily chart. It has tried several to break far above but is has been failing. The rally is a wedge and it is evolving into a trading range. Day traders have been scalping up and down for 10 – 20 pips all night. There is no sign that this is about to end.
Since the buy setup on the daily chart was weak, today will probably not rally far above yesterday's high. Also, the EUR/USD is in the middle of a 3-week range on the daily chart. Trader prefer to sell higher in a trading range. Also, yesterday was a bull bar at the bottom of the range. Finally, the EUR/USD rallied, albeit weakly, overnight. These factors make a big bear day unlikely.
The bulls want today to close above yesterday's high. That would increase the chance of at least slightly higher prices tomorrow. The bears want today to close on its low. That is unlikely. At a minimum, they want it to close below yesterday's high and preferably below the midpoint.
Day traders expect today to continue in a trading range around yesterday's high.
(Visited 14 times, 1 visits today)