has posted small gains in the Thursday session. Currently, the pair is trading at 1.1426, up 0.35% on the day. U.S. banks and stock markets closed for Thanksgiving and there are no U.S events. Traders can expect an uneventful day in the currency markets. The ECB will release the minutes of its policy meeting in October and Eurozone consumer confidence is expected to come in at -3 points for a third straight month. On Friday, Germany releases Final for the third quarter, with the markets braced for a decline of 0.2 percent. As well, the eurozone and Germany will release and reports.
As the locomotive of the eurozone, the German economy is often viewed as the bellwether of the eurozone. A rare decline in German Preliminary GDP for Q3 has raised alarm bells – is the long German expansion over, or was this release just a blip? The drop of 0.2% marked the first decline in the German economy since 2015, and analysts are keeping a keen eye on the Final GDP, which will be released on Friday. This release is also expected at -0.2%, which could weigh on the euro. German officials attributed the weak Preliminary GDP reading to new emission standards for German cars, but it's likely that the drop is reflective of a weaker global economy due to the ongoing trade war between the U.S. and China. The tariffs have already resulted in a slowdown in China's economy, and the analysts expect a similar effect on the U.S. economy, as the 'R' word (recession) is already being whispered, even though the U.S economy is currently firing on all cylinders.
The Italian budget continues to be a bone of contention between Rome and Brussels, and the ball is now in the court of the EU, in particular, the European Commission, which is in charge of EU regulations. On Wednesday, the Commission rejected Italy's draft 2019 budget, saying it was in breach of EU deficit and debt rules. Italy's debt stands at a staggering 132% of GDP, and the EU is concerned that the high-spending budget could cause another debt crisis in the eurozone. The EU could impose severe financial sanctions on Italy, with fines of up to 0.2% of the country's GDP. Senior Italian officials have vowed not to bend on the budget, but may have to reach a compromise with Brussels.
EUR/USD Fundamentals
Thursday (November 22)
7:30 ECB Monetary Policy Meeting Accounts
10:00 Eurozone Consumer Confidence. Estimate -3
Friday (November 23)
2:00 German Final GDP. Estimate -0.2%
3:30 German Flash Manufacturing PMI. Estimate 52.3
3:30 German Flash Services PMI. Estimate 54.6
4:00 Eurozone Flash Manufacturing PMI. Estimate 52.0
4:00 Eurozone Flash Services PMI. Estimate 53.6
*All release times are DST
*Key events are in bold
EUR/USD for Thursday, November 22, 2018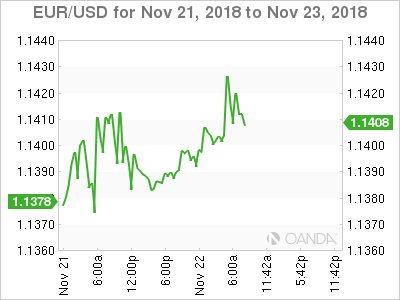 EUR/USD for November 22 at 4:25 EST
Open: 1.1386 High: 1.1430 Low: 1.1381 Close: 1.1426
EUR/USD Technical
| | | | | | |
| --- | --- | --- | --- | --- | --- |
| S1 | S2 | S1 | R1 | R2 | R3 |
| 1.1120 | 1.1212 | 1.1300 | 1.1434 | 1.1553 | 1.1685 |
EUR/USD posted small gains in the Asian session and stronger gains
1.1300 is providing support
1.1434 is a weak resistance line
Current range: 1.1300 to 1.1434
Further levels in both directions:
Below: 1.1300, 1.1212, 1.1120 and 1.0992
Above: 1.1434, 1.1553 and 1.1685