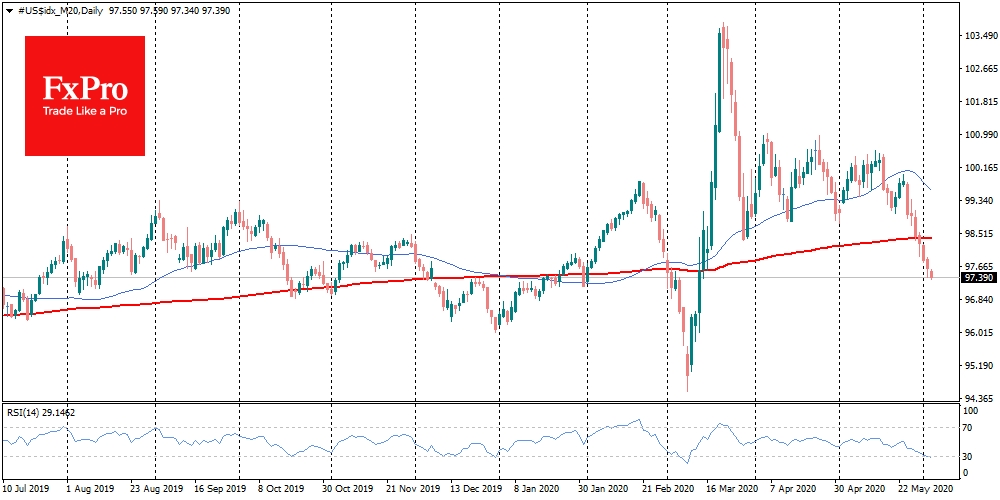 The rally of world markets continues, and the dollar is rapidly losing ground. Very often, the weakening of the goes hand in hand with the strengthening of purchases on world markets. With a few exceptions, this is a normal state of healthy markets, which makes one believe that this trend will continue.
The single currency reached 1.1200, having recovered its losses since the beginning of the year, showing growth during the eighth trading session in a row. After sharp fluctuations in March, still managed to turn back to growth and shows signs of breaking the two-year downtrend.
An additional positive sign is Australian dollar dynamics, which was approaching 0.7000 earlier in the morning, and as euro, almost completely restored its decline so far this year.
It is also fascinating that the ECB is expected to expand its asset purchase program later this week, which is a negative factor for the currency. Australia reported today a decline in GDP in the first quarter, and the government is talking about a present recession as the economy shrinks rapidly in the second quarter.
Meanwhile, the markets are optimistic, suggesting a V-shaped economic recovery as we can see on the charts of stock indices and pair. Currencies of large emerging countries follow the suite: the Russian ruble jumped by 12% over two months, while the South African rand – by 10%.
And at the moment investors are faced with the vital question, which is right, markets or economists and policymakers? The latter group are looking to the future with anxiety and are considering new measures to support the economy. So far, there is a feeling that the markets are too carried away buying on the rebound and have gone too far, offsetting the March collapse.
We saw the same thing earlier this year when the climbed to new heights in January amid a burgeoning epidemiological disaster. The same can be said about the currency market, where technical indicators show that the dollar is oversold compared to a vast number of currencies from , and to and .
This week we will see for May, where it is expected that more many millions decline in employment and rise in the unemployment rate to 20%. This release may sober the markets, bringing back the idea loss of employment can trigger a downward spiral, where spending cuts lead to job losses and new spending cuts. And not for weeks anymore, but many months.
The FxPro Analyst Team
(Visited 3 times, 1 visits today)